Why SMS?
SMS is one of the most direct channels available for real time communication. It is fast, cheap, efficient and delivered in a matter of seconds. The chance of an SMS notification being read within five minutes of its receipt, is more than 90%. Not only that, they are user friendly, secure and reliable. You don't need internet facilities for SMS and if the phone is powered off or out of range, messages are stored in the network and delivered at the next opportunity. Therefore, SMS is the quickest and easiest way to reach your audience in today's world.
You can use SMS to send an alert or a reminder to your team or update them instantly on any issue related to your business. SMS can be used to contact your audience or to market (SMS campaigns) your products or services. SMS can be send directly in real time or as per a pre-defined schedule (on a predefined date and time) as per your needs.
What if you automate the sending of SMS?
It will save you a whole lot of your precious time! We have done this for you and now SMS can be send to any number of recipients within a minute or two, using a very simple workflow we have developed for you. We invite you to follow the workflow described here and send thousands of SMSs anywhere in the world in no time.
How do you send SMS directly from Google Sheets in real time?
Rapidomize's Google sheet and mobile app integration enables you to send SMS automatically from Google sheets to any recipient phone number in real time. This is a readymade integration/ ICApp (intelligent connected app) and very simple to use. No coding skills are required. You can send SMSs to any number of recipients and totally avoid manual work associated with the process.
We use "Google Sheets" as the Trigger app and Rapidomize "mobile app" as the Action app for this integration. Just connect these two apps and you can send SMS automatically in real time whenever a Trigger occurs (a new row is added) in your Google Spreadsheet.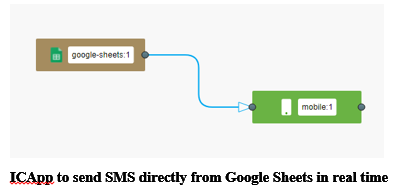 How to set up this automation?
It's super easy! Create a new Google spreadsheet and add the names and phone numbers of your contacts in two separate columns. If needed, you can add the first and last names in two different columns as well.

Remember that the phone number needs to be written in international format. Ex: (412) 503–2345 as 4125032345 – 11 digits/no spaces or parenthesis /no leading zeros.

Choose "Google sheets" as your Trigger app and select "When new spreadsheet row" as your Trigger. Select your Google spreadsheet (where you have the names and phone numbers of recipients) and then select the relevant cell numbers from the drop down menu.

Select "Rapidomize Mobile App" as your Action App. Select "Send a SMS" as the Action. Finally, select the Google sheet column, which contains the contact number of the recipient. A macro will be created based on your selection.

You can also select the recipient name, if you need to address the recipient by "Name".

Type the message that needs to be sent to the list of recipients.

Click on "Test" and the automation will be ready. Whenever you add a new recipient to this Google Sheet, the above message will be sent to the new recipient in real time.
How to schedule sending of SMS messages from Google Sheets

First, Select our "Scheduler" as your Trigger app. Select timing model as "run once" and provide the "date and time" that you need the SMS to be sent on.

Then select the "Google Sheet" as your first "Action app" and select the relevant spreadsheet and the range of cells where you have your recipient data.

Connect "Rapidomize mobile app' as your second "Action app" and select the column which contains the phone numbers of recipients from the drop down menu.

Type your message that needs to be sent to recipients in the relevant cage.

Click "Test" and the automation will be ready. The message will be sent to the list of recipients at the specified date and time. You can schedule any number of SMSs to be sent to any number of recipients using this ICApp.
These two very simple integrations allows you to send SMS in real time or through schedules to local as well as global phone numbers anywhere in the world. Setting these ICApps are super easy and takes only a few minutes.
Further, please note that Rapidomize is always available to guide you when you use our integrations.
If you are ready to reach your team of workers, customers, audiences etc. with automated real time or scheduled SMS, which is much faster, easier and reliable, get started with these awesome Rapidomize integrations today itself.